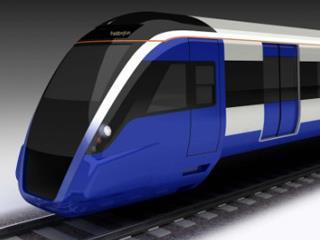 UK: Plans for private finance to meet the majority of the estimated £1bn cost of procuring around 600 electric multiple-unit cars and associated maintenance facilities for Crossrail have been dropped, Transport for London announced on March 1.
The largest single contract to be awarded under the Crossrail project is now to be entirely funded by the public sector, replacing previous proposals for a largely privately-financed contract including a £350m public contribution.
TfL said the change of plan proposed by Mayor of London Boris Johnson and agreed by Transport Secretary Patrick McLoughlin would simplify procurement and help ensure the 'timely delivery' of the fleet. The government and TfL are still to finalise the exact financing structure, which would be a mix of grant funding and public-sector borrowing with the rolling stock being bought outright rather than leased.
Bombardier Transportation, CAF, Hitachi Rail Europe and Siemens were formally invited to negotiate for the rolling stock and depot contract on February 28 2012. On September 25 2012 the government invited bidders to apply for a state guarantee to assist with financing, subject to it being demonstrated that this would accelerate delivery and offer better value for money for the taxpayer. With the decision to fund procurement with public resources, this guarantee is no longer necessary.
According to TfL, the target date for signing the rolling stock contract remains 'mid-2014', with delivery and testing from 2017 and the opening of the twin Crossrail tunnels under central London due to take place in late 2018.
'Nothing must get in the way of this fabulous new railway and it is fantastic news that we can now crack on with buying the wonderful fleet of brand spanking new trains', said Johnson. 'With more than 600 carriages providing a 10% increase in London's rail capacity, Crossrail will transport not just passengers but jobs and growth across the city and beyond.'
Crossrail Ltd has awarded the AC Joint Venture of Alstom Transport and Costain the £15m contract C644 covering the high-voltage traction power supply for the central section of the route.