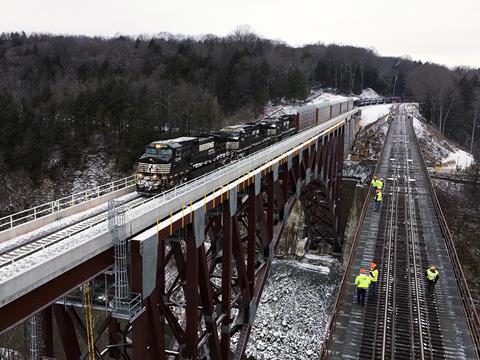 USA: Norfolk Southern has opened the new Portageville Bridge, a 294 m long steel arch span across the 72 m deep Genesee River gorge in Letchworth State Park on its Southern Tier Line in New York state.
The structure replaces an iron truss bridge built by the Erie Railroad in 1875, which had itself replaced a wooden structure that had burned down. The second bridge has now been replaced because it was creating a bottleneck for freight traffic, being unable to support industry standard axleloads and limiting train speeds to 16 km/h compared to 48 km/h on the new structure.
The $75m budget for the two-year project included $59·5m from Norfolk Southern, a $2m grant from the Finger Lakes Regional Economic Development Council and $13·5m in state and federal funding.
'This is a very exciting day for Norfolk Southern and for the future of freight rail service in New York's Southern Tier region', said Chairman, President & CEO James A Squires. 'The successful completion of this bridge is an excellent demonstration of how the public and private sectors can work together on freight transportation projects that generate significant public benefits and are vital to US commerce.'
'The new Portageville Bridge complements the beauty of Letchworth State Park while providing safer, more efficient freight rail service', said New York Governor Andrew M Cuomo. 'Through a combined effort with Norfolk Southern, government leaders and the public, we have built a modern arch bridge which will support economic growth in the region and continue our drive to strengthen and modernise transportation infrastructure across the state for generations to come.'