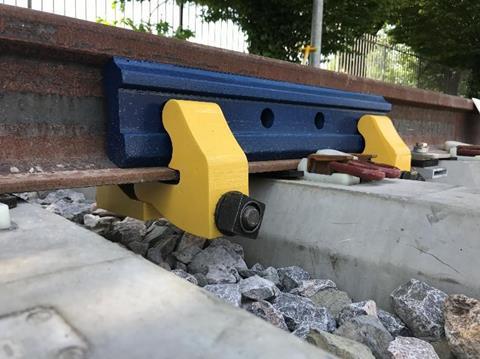 COMPONENTS: Pandrol has launched a redesigned rail clamp for use as a temporary joint prior to welding and to safeguard defects before repair.
The supplier said its updated design offers a reduction in installation time and enhanced performance, with wider contact points to reduce friction and rail stress, and a positive pre-torque angle to eliminate bolt bending.
Current rail clamps rotate inward to gain support from the rail, rendering bolt bores non-concentric and leading to bolt bending. The new design ensures a positive pre-torque angle, so that the holes remain aligned as the bolt is tightened and so the bolts do not bend under self-load. This means they can be reused, leading to cost savings.
Tests showed that bolts remain straight at twice the recommended torque, and the clamp offers reduced rail joint creep and improved vertical joint deflection plus higher achievable line speeds.
The clamp is compatible with most rail sections. It has been approved for use on the London Underground, and approval is pending with SNCF, Infrabel, SBB, Network Rail and New York City Transit.