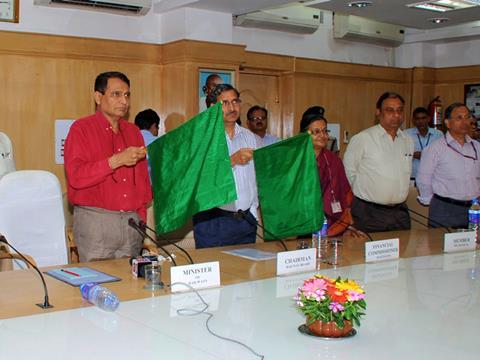 INDIA: What the Ministry of Railways says is the first line to be built using independent finance under the non-government railway policy announced in 2012 was officially opened on July 14, when Minister of Railways Suresh Prabhu used teleconferencing facilities to flag off the inaugural train.
The 1 676 mm gauge line runs for 17 km from Gandhidham to Tuna Tekra Port in Gujarat. The project was funded by the Kandla Port Trust, with IR's Western Railway responsible for managing the construction of 11 km of the route. The project was approved by the Railway Board in October 2013, and construction began in May 2014. Work was completed in May this year at a cost of Rs1·85bn.
The main traffic is expected to be coal and fertiliser, with an average of four trains a day producing an annual revenue of Rs50m/year for Indian Railways.
So far the Ministry of Railways has agreed to provide rail links to the ports of Tuna, Dhamra, Jaigarh and Dighi under the NGR policy, with the operation of trains from these ports expected to generate Rs24bn without requiring a financial commitment by the ministry.
Initial approval has also been granted for a further five projects which are expected to generate Rs28bn.