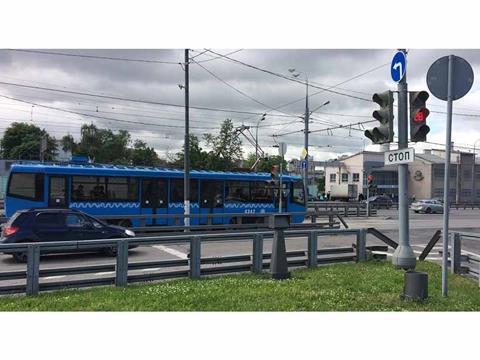 RUSSIA: The first set of traffic signals giving priority to trams has been installed in the east of Moscow at the junction of Shosse Entuziastov and the Third Ring Road.
When a tram approaches the road junction, it is detected by sensors fitted on both sides of the Third Ring Road. These send a signal to a wayside controller that change the traffic lights to allow the tram to pass without stopping.
In some cases the tram will have to wait up to 17 sec to pass, which is an improvement from the 90 sec fixed cycle that was previously in place. The technology is expected to speed up journeys for the 30 000 passengers a day that use tram routes 8, 12 and 46 on this section of the network.
'We are constantly working on the development of an intelligent transport system', said Deputy Head of the Moscow government's Centre for Organisation of Road Traffic Dmitry Gorshkov. 'One of our most important priorities is public transport, as in peak hours it is used by 73% of the city's inhabitants'.
The system was tested on cars in the satellite town of Zelenograd between March and May. The Centre for Organisation of Road Traffic intends to install up to 600 intelligent crossings across Moscow within the next year, with priority given to upgrading the crossings that currently cause trams to wait the longest.