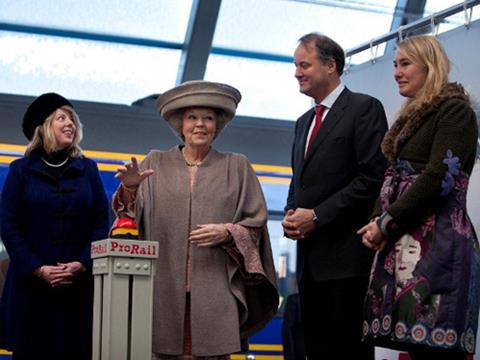 NETHERLANDS: The 50 km Hanze Line between Lelystad and Zwolle was officially opened on December 6 with a ceremony attended by Queen Beatrix and Transport Minister Melanie Schultz van Haegen.
After a presentation at Lelystad, the Queen rode the inaugural train to Zwolle, accompanied by several ministers and other guests.
Completed at a total cost of €1·1bn, the Hanze line has been designed for 200 km/h, although services will initially be limited to 140 km/h.
Starting from an end-on junction with the existing Flevo Line in Lelystad, the new route turns east to cross the A6 motorway to reach Dronten. After tunnelling under the Drontermeer, it serves a second new station at Kampen Zuid before joining the existing line from Amersfoort to cross the Ijssel on a new bridge into Zwolle.
The route has been equipped with ETCS Level 2, but conventional signals and ATB-W train protection equipment have been provided for use by non-ETCS trains.
Regular services over the Hanze Line are due to start with the timetable change on December 9, following a day of free travel for local residents on December 8. According to national infrastructure manager ProRail, around 32 000 passengers are expected to use the line each day.
Offering a 13 min reduction in journey times between Amsterdam and the northeast of the country, the new timetable provides two inter-city and two stopping trains per hour in each direction, operated by NS Reizigers, together with an hourly freight path.
The alternating IC services will link Groningen or Leeuwarden with Den Haag via Amsterdam Zuid and Schiphol, whilst the stopping trains will run from Zwolle to Amsterdam Centraal. The existing IC services from the northeast via Utrecht will continue to serve Rotterdam, but will no longer include a portion for Den Haag.