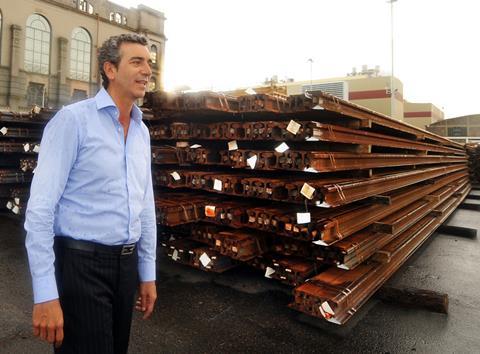 ARGENTINA: Minister of the Interior & Transport Florencio Randazzo visited the Port of Buenos Aires on January 9 to inspect the first shipment of 10 000 tonnes of rail from ArcelorMittal Poland for track renewals on the routes from the federal capital to Rosario and Mar del Plata.
Pointing out that track renewals were one strand of the ambitious railway investment programme launched by President Cristina Fernández, Randazzo said that the first shipment of rail would be used to renew 92 km of track on Argentina's principal main lines. Infrastructure authority ADIF would supply 7 000 tonnes to its 11 contractors at work on the Buenos Aires -Rosario route, while 1 500 tonnes would go to five contractors on Buenos Aires - Mar del Plata.
'The shipment that we are receiving is the first batch of the 120 000 tonnes of rail that we have purchased and which will be delivered this year under the most ambitious track renewals programme of the last 50 years', said Randazzo. 'Track renewals are being complemented with the 22 locomotives and 220 new long-distance coaches which are already in the country and with which we will completely renovate services to Rosario and Mar del Plata'.