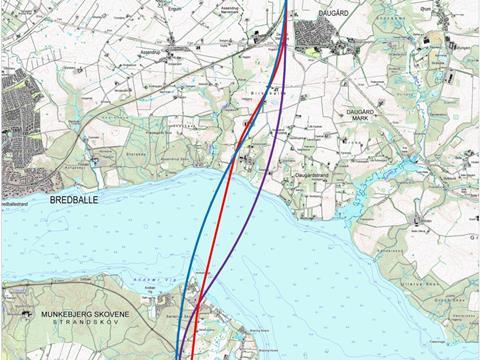 DENMARK: The national roads directorate has appointed engineering consultancy Rambøll to explore four possible alignments for a high speed rail link across the Vejle Fjord, which would shorten Banedanmark's main line between Fredericia and Aarhus.
The project is a key element in the government's Togfonden DK railway investment programme, which will see the electrification of the main line to northern Jylland and line speed improvements to reduce the journey time between each of the country's principal cities to 1 h. The current timing for the hourly Lyntog expresses between Odense and Aarhus is 92 min with four intermediate stops.
To be designed for 250 km/h operation, the 5 km cut-off is expected to save between 8 and 9 min. It would diverge from the existing line at Brejning, southeast of Vejle, and rejoin at Daugård to the northeast, bypassing the town which would in future be served by stopping trains and the regional line to Herning. The rail crossing would be about 5 km downstream from the 1 712 m long road bridge opened in 1980 to carry the E45 motorway.
In October 2014 Vejdirektoratet selected Rambøll to undertake conceptual design of a rail bridge over the Vejle Fjord, but following feedback from an initial public consultation the agency decided in May to widen the brief to include a tunnel option. Following an international tender, the firm has now been appointed to undertake an assessment of four alternatives.
This will include technical studies and landscape assessments for one tunnel and three bridge options, including environmental conditions, land requirements, visual intrusion and noise. As part of the process, the consultants will look at the construction timescale and practical considerations as well as the costs of each proposal. Formal environmental impact assessments for the various options are due to be published for further consultation in the second half of 2016.
Meanwhile, Rambøll has been appointed to provide consultancy services for other Togfonden DK projects, including the upgrading of the Aarhus – Hobro section of the Aarhus – Aalborg line for higher speeds.