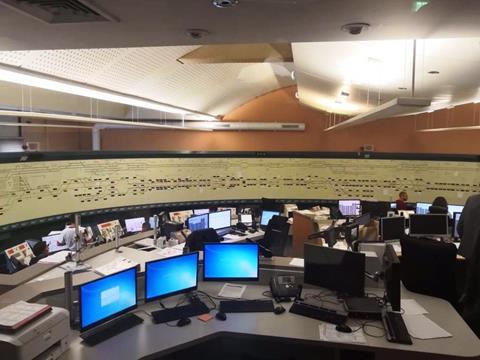 FRANCE: Operational control of Paris RER Line A has been concentrated at a single location with effect from September 2, although ownership of the route remains split between SNCF and RATP.
Under a project launched earlier this year, the SNCF Réseau and SNCF Mobilités staff responsible for operating the Cergy and Poissy branches at the western end of Line A have been transferred from Saint-Lazare into the RATP control centre at Vincennes, which already managed the central section of Line A, the eastern branches and the route to Saint-Germain. The move follows the successful consolidation of control for RER Line B several years ago.
Bringing together the decision-making for the different sections of Line A is expected to improve punctuality as well as helping the operators to manage disruption, leading to faster recovery after incidents. The provision of passenger information has also been centralised, which should improve the quality of information provided to the 1·2 million passengers that use Line A each weekday.
Unlike Line B, where the signalling on each section remains separate, SNCF's three-station Line A branch to Cergy-le-Haut is now run directly from the Vincennes control centre. Resignalling of the branch has coincided with the commissioning of a fourth platform track at the terminus, which is intended to reduce congestion and introduce more resilience to prevent delays rippling back along the entire line.