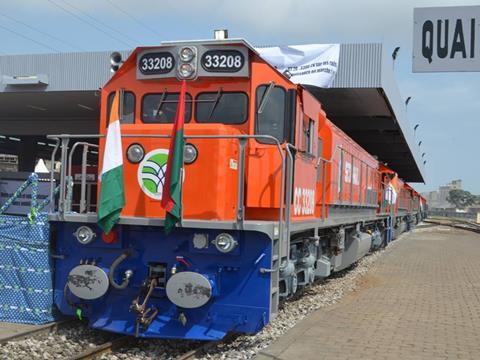 AFRICA: Sitarail is to begin a programme to modernise 852 track-km of the Abidjan – Ouagadougou – Kaya railway in September, following the signing of a revised concession agreement with the governments of Côte d'Ivoire and Burkina Faso on July 29.
The agreement was signed during the two countries' 5th Summit Conference of the Treaty of Friendship & Co-operation. It revises the terms of the concession to give Sitarail responsibility for maintenance and renewal of the infrastructure including stations and workshops on the 1 260 km network, in addition to its existing role as operator and responsibility for investing in rolling stock.
Part of Bolloré Group, Sitarail has operated the network for 22 years. It has 1 450 employees, and currently carries 300 000 passengers and 900 000 tonnes of freight a year. In September 2015 the Ivorian Prime Minister launched a programme to upgrade the infrastructure to support a planned increase in annual traffic to 2 million passengers and 5 million tonnes of freight, including 3 million tonnes from the Tambao manganese mine.
'Bolloré Group would like to thank the Republic of Côte d'Ivoire and Burkina Faso for their confidence', said Chairman Eric Melet following the signing of the new concession. 'The signing of this new agreement marks a key stage. It is fully in line with the considerable efforts made by the Bolloré Group since the creation of Sitarail. The attractiveness of railways, a key facility for regional integration, will be considerably enhanced and enable us to accept new forms of traffic such as iron ore'.