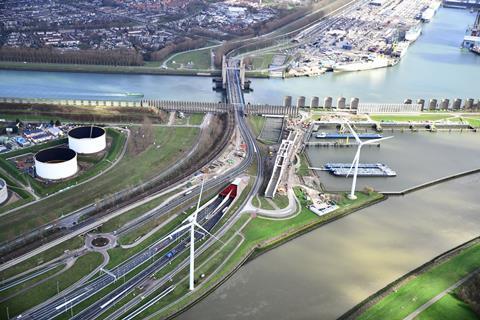 NETHERLANDS: Port of Rotterdam Authority has awarded VolkerRail the track, electrification and train protection systems contract for the Theemswegtracé freight line project.
The 4·5 km line including a concrete viaduct and two steel-arch bridges across the Rozenburg lock and Thomassen Tunnel is being built to enable trains to be diverted away from the Caland Bridge road and rail vertical lift bridge. This will eliminate a bottleneck on the route between the port and the Beutwe Route freight line by avoiding conflicts with shipping movements to and from the Brittanniëhaven basin.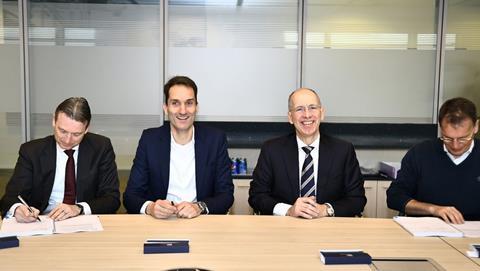 The SaVe consortium of construction firms BESIX, Mobilis TBI, Dura Vermeer and steel compnaies Hollandia and Iemants has been undertaking major construction works for the project since September 2018. SaVe is scheduled to hand the civil works over for the installation of railway systems in mid-2020, and commissioning of the line is planned for the end of 2021.
The Caland Bridge which dates from 1969 will then only be used by road traffic.
The €300m project is being financed by the Port Authority, Ministry of Infrastructure & Water Management and the EU. National rail infrastructure manager ProRail will be responsible for maintenance.
'Good connections to the hinterland are essential for the competitive position of the Port of Rotterdam', said Ronald Paul, Chief Operating Officer of the port authority, when the contract with VolkerRail was signed on March 6. 'The port railway and the Theemsweg route are of great importance for this. Better utilisation of the existing Betuwe Route is not only useful from an economic point of view – freight transport by rail is also environmentally friendly and safe.'