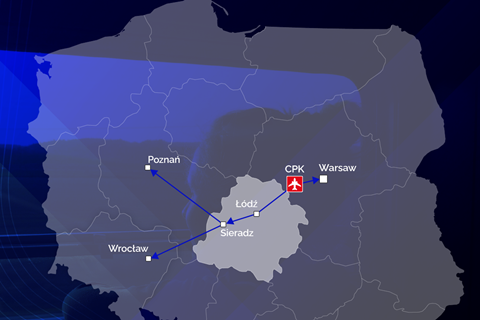 POLAND: Rail, airport and road project promoter Centralny Port Komunikacyjny has announced its preferred route for the Poznań arm of the proposed Y-shaped Warszawa – Łódź – Sieradz – Wrocław/Poznań high speed rail network.
CPK selected its preferred Sieradz - Poznań route from four options, taking into account technical, economic, social and environmental factors.
The chosen variant would have 155 km of high speed line, plus connecting lines which would take the total length of new alignment to 220 km. It would be designed for 350 km/h operation, although services would initially run at up to 250 km/h.
The railway element of the overall CPK programme envisages the construction of 2 000 km of new line across Poland, with the aim of putting most large cities within 2½ h of both Warszawa and the planned central airport.
Design work is already underway on the preferred alignments for a 140 km high speed line between Warszawa and Łódź and a 200 km route between Łódź and Wrocław.
'The high speed railway being built by CPK is a civilisational leap for Polish infrastructure', said Marcin Horała, Deputy Minister of Development Funds & Regional Policy and government plenipotentiary for CPK, on May 11.
'This line should have been operational today, but unfortunately 12 years ago the preparations for the construction of the Y-shaped line were unnecessarily suspended. Today, we are making up for the lost time'.