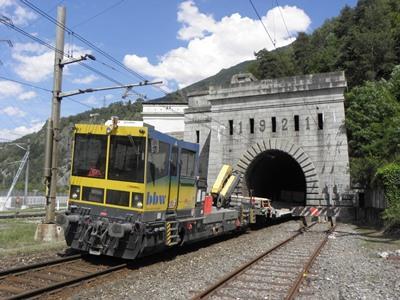 SWITZERLAND: Swiss Federal Railways has awarded a contract to Rhomberg Bahntechnik to install, test and commission safety equipment in the two single-track bores of the 20 km Simplon tunnel between Brig and Iselle in Italy.
The SFr7·1m contract covers the installation of illuminated handrails, alarm equipment, emergency signage and lighting in the main tunnels, refuges and the cross-passages being cut between the two bores at intervals of 500 m to 600 m. Installation is programmed in two phases during 2015: from January to March and from September to November next year.
The work is part of a three-year programme to bring the tunnel up to the latest safety standards at a cost of SFr170m. SBB launched the programme at the end of March 2012.
'The biggest challenge for our on-site team is undoubtedly the logistics and the very short installation window of just eight weeks for each bore', said Dirk Diederich, Managing Director of Rhomberg Bahntechnik, part of Rhomberg Sersa Rail Group.