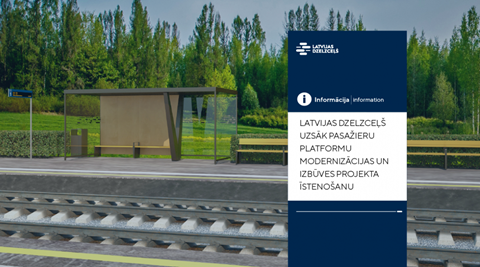 LATVIA: National Railway LDz has awarded two design and build contracts for the modernisation of a total of 48 stations by 2023.
A partnership of BMGS and FIMA was awarded the contract for stations on the lines from Rīga to Jelgava, Tukums II and Krustpils and between Kalngale and Skulte, while Leonhard Weiss won the contract covering Zemitāni – Vecāķi.
The scope includes the provision of raised platforms, canopies, seats, bicycle parking stands, passenger information systems and CCTV, as well as accessibility works including the provision of tactile surfaces.
New stations will be built at Silikātu Iela and Slokas Iela on the Torņakalns – Bolderāja line, at Dauderi on the Zemitāni – Skulte line, and near the Alfa shopping mall on the Rīga – Cēsis line.
The €44·4m programme is being funded from EU sources (85%) and LDz's own resources (15%).
LDz said the 'multilayered' development of railway infrastucture in Latvia reflected 'various powers and fashion trends in the course of many years', but it has now developed uniform visual guidelines to be used at new and modernised stations.