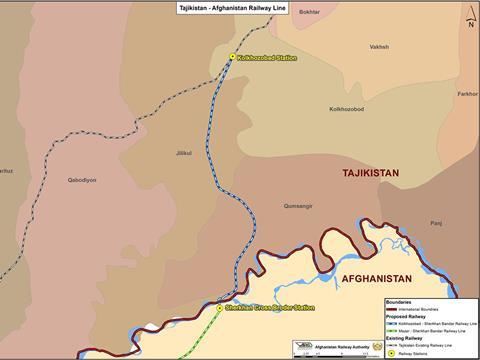 ASIA: Design work has been completed and Tajikistan could begin construction of a cross-border rail link to Afghanistan by end of 2018, the Afghanistan Railway Authority said on July 16.
An ARA team led by Chief Executive Mohammad Yamma Shams recently travelled to Tajikistan to discuss the project, and technical groups from both countries visited the proposed alignment on July 11-12.
The new line would start at Kolkhozabad on the existing Tajik rail network, and run 50 km south via Panj Payan (Nizhny Panj), crossing over the River Panj which forms the border to terminate at the port of Sher Khan Bandar in northern Afghanistan.
A memorandum has been signed for Tajikistan to fund construction of the Afghan station as part of the project.
It is envisaged that the line could be extended 65 km to the Afghan city of Kunduz, and then west to Mazar-i-Sharif as part of the proposed Turkmenistan – Afghanistan – Tajikistan railway.
In the longer term, this could ultimately form part of a rail corridor between Iran and China via Afghanistan.