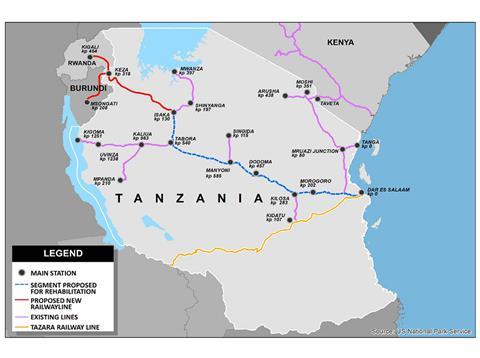 AFRICA: Expressions of interest in a contract to finance, design, build, operate and maintain a 1661 km railway linking the port of Dar es Salaam in Tanzania with Burundi and Rwanda have been invited by the three countries.
Known as the DIKKM railway from the initials of the main places to be served, the railway would largely follow the alignment of the existing metre gauge line for the 970 km from Dar es Salaam to Isaka, replacing the current line without disrupting its operations during construction. From Isaka the DIKKM railway would follow a 494 km greenfield alignment to Kigali in Rwanda, with a 197 km branch from Keza to Musongati in Burundi.
The DIKKM railway would be built to 1 435 mm gauge, in line with East African Community and African Union policies for new lines in the region, and would be suitable for heavy freight trains with 32·5 tonne axleloads and up to 2 000 m long.
Two PPP contract models are being considered: a turnkey build-operate-transfer concession, or the award of separate construction and operations & maintenance contracts which may enable the states to source financing at lower cost. Procurement is being led by the Rwanda Transport Development agency on behalf of the three countries, which have appointed CPCS of Canada to advise on the contract structure and the selection of private-sector partners.
A feasibility study for the project was completed by Canarail and Gibb Africa last year, building on work previously undertaken by BNSF and DB International. This recommended that the line be developed through single joint infrastructure company and regulated by a joint agency.
Three traffic estimates have been produced, with the 'low growth' case predicting 8·5 mtpa in 2029, the 'likely achievable' case 12·9 mpta and the 'optimistic' case based on future mineral traffic 24·7 mtpa. Freight services are expected to be profitable, but it is anticipated that passenger services would be supported through public service obligation payments.
Expressions of interest should be submitted by August 14. Prequalified parties would then be invited to prepare detailed bids.