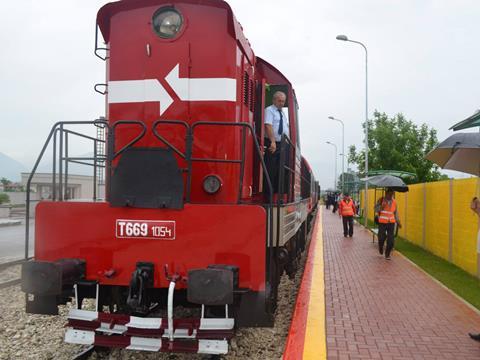 ALBANIA: Companies have been invited to prequalify for a contract to rehabilitate the Durrës – Tiranë railway and construct a branch to serve Tiranë International Airport.
National railway HSH is to fund the project using a €36·9m loan from the European Bank for Reconstruction & Development and up to €35·5m in grants from the Western Balkans Investment Framework regional initiative of the European Commission, international financial institutions, bilateral donors and beneficiary governments.
The 36 km single-track line linking the capital with the main port is the busiest section of the Albanian network. It was built in 1951 and rehabilitated in 1996. Because the route is relatively modern, it is expected that the modernisation works would allow regional or suburban passenger passenger services to run at speeds of least at 100 km/h.
The proposed single track branch to the airport would begin at a triangular junction at the 27 km point of the Durrës – Tiranë line and require around 7·4 km of new track to reach the air terminal at Rinas.
A single contract is to be let to cover the civils, track and signalling works for both the rehabilitation and new construction elements of the project. Work is expected to take 30 months from commencement.