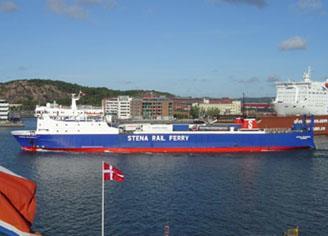 DENMARK: Four IC3 and six MR diesel multiple-units were left stranded when a container ship collided with the Limfjorden railway bridge at Aalborg on the night of March 28, severing the railway to the far north of Denmark.
To retrieve the rolling stock, DSB, infrastructure manager Banedanmark and Stena Line have agreed to repair out-of-use train ferry facilities at Frederikshavn and Göteborg. This will enable the DMUs to be transferred to Sweden on the train ferry Stena Scanrail on June 3-5, from where they will be hauled back to Denmark.
Banedanmark will move track machines and equipment needed for planned engineering works in the other direction.
'It has been an exciting project', said Claus Riis, Freight Manager at Stena Line. 'We have not operated rail shipments for several years, so we had to dig in the archives to find procedures.'
The lifting section of the bridge was knocked about 1 m out of place when it was hit by the ship while in the closed position. On April 21 the damaged section was removed to allow ships to pass. Repairs are expected to take at least three months, and train services on the severed line are currently replaced by buses.