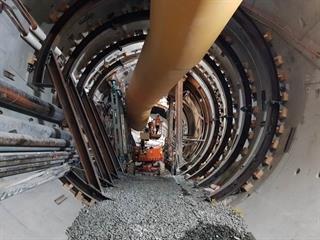 AUSTRALIA: Opening of the Forrestfield-Airport Link in Perth is now expected in the second half of 2021, Western Australia's Minister of Transport & Planning Rita Saffioti announced on December 18.
Being built at a cost of A$1·86bn, the 8·5 km suburban railway to the airport and Forrestfield will diverge from Transperth's 1 067 mm gauge Midland Line near Bayswater. The line had been expected to be completed in late 2020, but this has been put back by around a year as a result of tunnelling problems near the airport.
According to the project team, a leak developed in one of the cross passages between the twin bore running tunnels on September 22, around 200 m north of the Forrestfield station site. This led to a sinkhole opening up alongside Dundas Road, causing movement in 16 concrete lining rings and damage to a 26 m section of one running tunnel.
'Investigations have indicated a number of potential causes, including construction defects in the grout block or failure of the join between the tunnel lining and grout. Tunnelling through the grout block and/or vibration from excavation of the cross passage may also have contributed', the transport ministry reported.
The leak has now been sealed by cement grouting, which has also filled the voids created by the ring movement. The damaged section of tunnel has been stabilised with temporary supports pending a decision on the best option for permanent repair. The government is investigating whether it will be possible to repair the damaged tunnel from the inside, or whether it will be necessary to dig down from the surface to remove the old rings and cast a new tunnel lining in-situ.
'Our primary focus is safety and quality, and that is why today we have set a revised timeframe for the project', Saffioti explained. 'While the delay is unfortunate, this project is being built to last 120 years. I believe the time added to the construction schedule is a small price to pay to ensure we safely deliver this asset which will serve the people of WA for generations.'