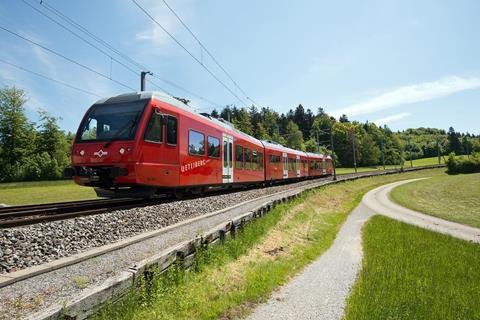 SWITZERLAND: Sihltal Zürich Uetliberg Bahn has unveiled a phased programme of infrastructure enhancements and standardisation to complement its fleet renewals, paving the way for a more intensive service to operate over its two routes west of Zürich.
SZU operates the Uetlibergbahn and Sihltalbahn as routes S10 and S4 of the city's S-Bahn network. Although these are both 1 435 mm gauge, the Uetliberg line is electrified at 1∙2 kV DC while the Sihltal route uses 15 kV 16·7 Hz. The two routes share tracks over 2∙3 km on the approach to the SZU terminus beneath Zürich Hauptbahnhof, where offset catenary is used to support both power supplies.
SZU plans to convert the Uetlibergbahn to the national standard 15 kV to give a common system across its network. According to Managing Director Mischa Nugent, this work should be completed by the end of 2023.
Preparatory works will begin in January, ahead of a three-week closure of the line in the middle of the year. The conversion is expected to cost SFr20m, but will bring significant energy and maintenance cost savings, notably by facilitating regenerative braking on the 8∙1 km Uetlibergbahn, which is one of the steepest adhesion railways in Europe.
Other planned infrastructure works include refurbishment by 2026 of the deep-level platforms used by SZU at Zürich HB, remodelling Friesenberg station with longer platforms, and double-tracking the Binz – Borrweg section of the Uetlibergbahn by 2028.
Only 6 km of the 17 km Sihltal line has double track, and SZU plans to build a loop at Wildpark-Höfli station and double a further 2 km of the route between Brunau-Hocklerbrucke and Leimbach Süd by 2026. Stations will also be upgraded to meet accessibility requirements, taking the total cost to SFr300m.
The final element of the programme is construction of a new rolling stock and infrastructure maintenance depot at Giesshubel by 2030.
Meanwhile, SZU is currently taking delivery of five Stadler Be570 EMUs, complementing six near-identical Be510 trainsets delivered in 2013-14. Although the network will only use one voltage from 2023, the Be570 sets are dual-system like their predecessors to ensure ease of procurement, production and certification. Once these are in service, SZU's older Be520 and B220 fleets will be withdrawn.
Looking ahead, SZU intends to procure a further six trainsets to provide a uniform fleet of 17 three-car EMUs.
This will support its objective of reducing headways on the Zürich HB – Adliswil section of the Sihltalbahn to 7½ min.