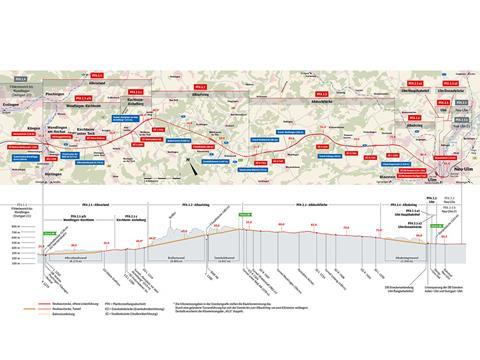 GERMANY: Deutsche Bahn has awarded Rhomberg Bahntechnik and Swietelsky Baugesellschaft a €250m contract to design, install and commission 60 route-km of track and railway systems on the 250 km/h line which is being built between Wendlingen and Ulm as part of the project to reduce Stuttgart – Ulm journey times from 54 min to 28 min.
The contract announced on January 12 covers the installation of 118 km of slab track, of which 60 km will be in tunnel, 16 turnouts, power suppliers, telecoms, 2 500 km of cabling, signage, ventilation equipment and 78 km of LED handrail.
The project is split into two lots, one covering the Albvorland section from Wendlingen to the Alb ascent between Weilheim and Hohenstadt, and the second the Alb plateau from Widderstall to the descent into Ulm.
The work is expected to take 30 months, with the Rhomberg Sera business unit taking the technical lead and Swietelsky the commercial lead
'By bundling the expertise and the experience of Swietelsky and Rhomberg, we have managed to create a powerful team, which will deliver the task in a cost and time efficient way as well as to the customer's fullest satisfaction', said Peter Gal, Managing Director responsible for railway construction at Swietelsky: