ANALYSIS Some US high speed plans are likely to go ahead despite the changing political landscape following the mid-term elections, but others are set to be abandoned, reports Julian Wolinsky.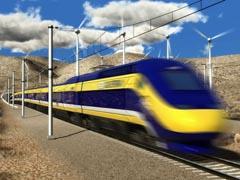 The results of the US mid-term election on November 2 look certain to bring changes to the Obama administration's plans for high speed and upgraded passenger railways, but funding for the key projects continues to flow.
A few days before the election Transportation Secretary Ray LaHood announced $2·4bn in grants to 23 states for what he described as high speed projects, although most will go on expanding conventional services and raising speeds on a few routes.
California and Florida, which have the only true high speed schemes on offer, received $715m and $800m respectively. With the $1·25bn announced by Obama last January, Florida now has over $2bn of the $2·6bn needed to build its 142 km line from Tampa to Orlando as the first phase of a proposed state-wide network.
Federal support for the project could increase despite the Republican party taking control of the House of Representatives, because Florida's John Mica is expected to become chairman of the powerful House transportation committee. However, the party's primary agenda is to scale back federal government, cut spending and reduce taxes, and it has generally been hostile to passenger rail subsidies.
Shortly after the election Mica, who in the past has encouraged both urban and high speed rail projects in his state, warned that he would look at the high speed line 'with a critical eye', indicating that he expected the private sector to contribute significantly.
Meanwhile, eight consortia have expressed interest in the concession to build and operate the Tampa – Orlando line, which is expected to go out to tender next year for completion by 2015. These include a Vinci-led group with Alstom, OHL and Virgin and a consortium bringing together Kiewit Construction, Bombardier and National Express. SNCF has teamed up with Amtrak and Bechtel, whilst Veolia is working with Siemens, FCC and Skanska.
In California, Democrat Jerry Brown was elected Governor in place of Republican Arnold Schwarzenegger, but both are strong advocates of high speed rail. The latest federal grant appears to contain a requirement that the first segment of the proposed $43bn network should be built in the rural San Joaquin Valley, forming the central part of the Los Angeles – San Francisco route. A spokesman for the Federal Railroad Administration said the agency would insist that the first tracks connected Fresno with Merced or Bakersfield, 97 km or 182 km respectively. This would link comparatively small population centres, but could be completed with the cash available.
In addition to nearly $2·5bn in federal funds received to date, the California High-Speed Rail Authority has more than $900m to draw upon from a bond approved by local voters. The Central Valley portion could be completed relatively quickly compared to the sections in the urban areas around Los Angeles and San Francisco where opposition is already at fever pitch in some communities. But farmers along the route are starting to object, as well as Union Pacific, whose right-of-way the authority wants to share.
New CHSRA chief executive Roelof van Ark told his board that he would recommend against buying any high speed trains until northern and southern California could be connected. But the authority has not identified the source of funds needed to complete the LA – San Francisco line by its target date of 2020. Meanwhile, van Ark suggested Amtrak could run conventional trains over the Central Valley tracks at up to 177 km/h.
However, two other 'higher speed' proposals will probably be halted by Republican election victories. In Ohio, Governor-elect John Kasich's campaign focused on killing the so-called 3C project for an upgraded rail service linking Cleveland with Columbus and Cincinnati. After his election he sent a letter to the incumbent governor asking that all spending cease immediately. Kasich also wrote to President Obama seeking to use more than $400m in federal grants already awarded to the project for other transport infrastructure including freight railways and highways.
Wisconsin's Governor-elect Scott Walker also campaigned on a promise to kill the $810m upgrade of the Milwaukee – Madison line, even though it had been fully funded by the federal government. Walker said the state could not afford to subsidise rail operations and wanted the money shifted to roads. However, on November 8, LaHood wrote to Walker to 'set the record straight' and allay any 'confusion' amongst the new governors about how the federal money could be spent. 'None of the money provided to Wisconsin may be used for road or highway projects, or anything other than high speed rail', he emphasised. 'Consequently, unless you change your position, we plan to engage in an orderly transition to wind down Wisconsin's project so that we do not waste taxpayers' money.'
A day after the election, incumbent Governor Jim Doyle ordered planning to stop despite having signed a deal with the DOT committing the state to spend the money. In July 2009, Wisconsin purchased two tilting trainsets from Talgo to operate the Chicago – Milwaukee line on condition that they be assembled locally. This contract included an option for two additional trains to operate Milwaukee – Madison. Talgo established an assembly plant in Milwaukee and is now building the first two trains plus two more sets financed by Oregon for the Amtrak Cascades service. But company President Antonio Perez warned that Talgo would not remain in Wisconsin should Walker scrap the project.