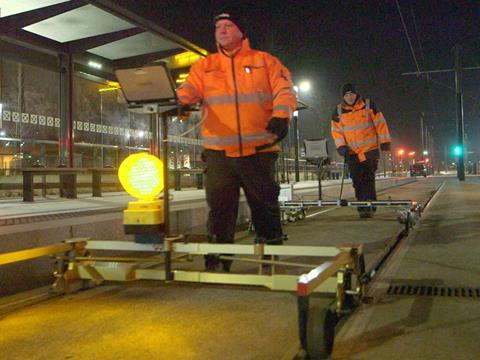 FRANCE: Vossloh Rail Services has completed an audit of the condition of the track on the Le Havre tramway on behalf of Transdev company CTPO which operates the network.
Vossloh combined its latest measurement and testing technology with 'high performance' analysis software it has developed. The results provided the operator with a basis for evaluating individual sections of track and thus optimising maintenance expenditure.
'On a day-to-day basis, the network's quality is assured by our own maintenance technicians', explained Eric Lang, Contracts & Technical Project Manager at CTPO. 'But after five years of operation, and in order to obtain a precise and global analysis of the rails' condition, we decided to work with Vossloh's expert teams.'
'To be able to inspect all 52 track-km during the short night shifts and digitally record the rail defects or parameter deviations, we had to plan the simultaneous deployments of the teams as precisely as possible', said Vossloh Project Manager Emmanuel Ettighoffer, adding that all the measuring devices could be put on or removed from the track quickly.