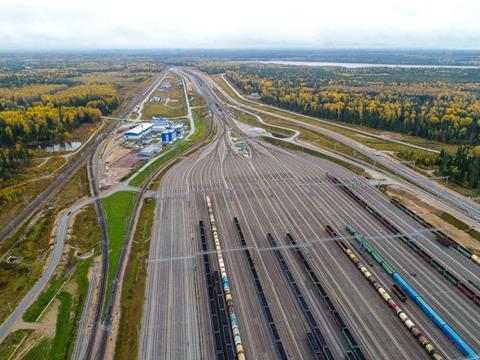 RUSSIA: RZD has formally marked the completion of 3 kV DC electrification on the October Railway's Mga – Veymarn – Luzhskaya corridor in Leningrad Oblast, permitting electrically-hauled heavy haul trains to run through from coal mines in the Kuzbass region to the port of Ust-Luga, a haul of more than 4 000 km.
Work began in 2011 to upgrade and electrify the east-west Mga – Gatchina – Ivangorod route linking the St Petersburg area with the Estonian border, together with the 56 km branch from Veymarn to Kotly and the Luzhskaya marshalling yard at Ust-Luga. This has required the reconstruction of 11 stations and the laying of 150 km of new track, along with more than 700 track-km of overhead electrification, at a total cost of around 30bn roubles.
As well as permitting electric operation throughout, the upgrading has increased the capacity of the route by a third, according to the Head of the October Railway, Vladimir Goloskokov.
Addressing a meeting of shippers on October 18, RZD President Oleg Belozerov said completion of the work would enable RZD to increase the volume of freight passing through the port by more than 11 million tonnes per year and reduce the average journey time for freight hauls from the Kuzbass region by 12 h. RZD expects the scheme to deliver an economic benefit of around 450m roubles per year, he said.
Speaking via a video link, the Head of West Siberian Railway Anatoly Reger reported that demand was growing on the route from the Kuzbass to the ports of northwest Russia. Around 20 heavy haul coal trains were being dispatched from the Kuzbass region each day, he explained, of which 75% were destined for Ust-Luga.
Read our article on the development of Ust-Luga port and its rail links in the September 2010 issue of Railway Gazette International, available to subscribers in our digital archive.