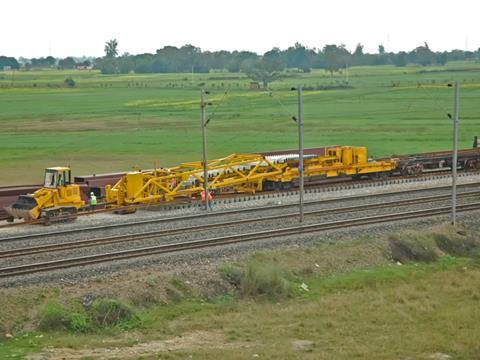 INDIA: The World Bank board approved a US$650m loan to support the construction of the Eastern Dedicated Freight Corridor on June 30. The loan from the International Bank for Reconstruction & Development has a seven-year grace period and a maturity of 22 years.
The Eastern DFC will run for 1 839 km from Ludhiana to Dankuni near Kolkata. The World Bank has approved three loans to support the construction of three sections totalling 1 146 km. The government predicts that the Eastern DFC will carry 153 million tonnes of freight in 2021-22, increasing to 251 million tonnes in 2036-37.
Meanwhile, the Cabinet Committee on Economic Affairs has approved revised cost estimates for the Eastern and Western DFCs. The construction costs are put at Rs266bn (Eastern DFC) and Rs462bn (Western DFC), with land acquisition costing Rs81bn. This excludes the cost of the 534 km Sonnagar – Dankuni section of the Eastern DFC which is to be implemented through a public-private partnership.
World Bank loans for the Eastern DFC
Section
Route
Length, km
Loan, US$m
Approved
EDFC1
Khurja – Kanpur
343
975
May 2011
EDFC2
Kanpur – Mughalsarai
402
1 100
April 22 2014
EDFC3
Ludhiana – Khurja
401
650
June 30 2015
Total
2725
The 126 km Mughalsarai – Sonnagar section is being funded by the Indian government, and the 538 km Sonnagar – Dankuni section is to be implemented through a PPP.