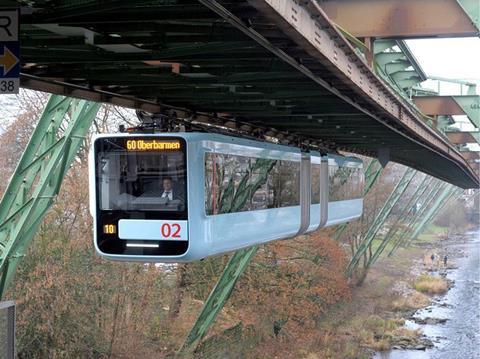 GERMANY: ETCS Level 3 train control has been successfully commissioned on the Schwebebahn suspension monorail in Wuppertal, which reopened in August following a nine-month closure for infrastructure renewals.
Under Level 3, track occupancy is determined solely by the vehicles communicating their positions to the central computer via radio. This obviates the need for conventional trackside train detection components such as axle counters, which have now been removed.
Alstom has supplied its Atlas ETCS technology under a contract signed with WSW Mobil in 2012. This covered the onboard equipment for all 31 vehicles in the new Schwebebahn fleet, as well as the heritage Kaiserwagen. It also included lineside equipment, such as the radio block centre, replacement interlockings and an interface to the operation control system.
Wuppertal is the first city in Germany to adopt ETCS for an urban rail application, according to Alstom's Managing Director for Germany and Austria Jörg Nikutta. Alstom supplied the components from its factories in Villeurbanne and Bologna, with installation and commissioning carried out by Alstom staff from Charleroi, Salzgitter and Berlin.