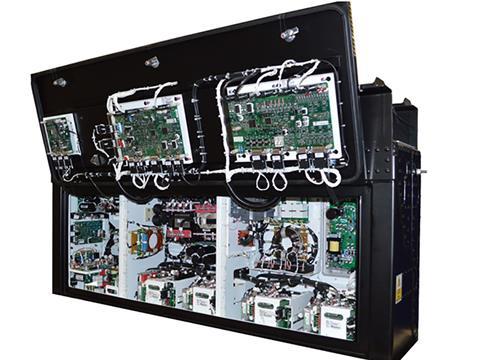 TURBO POWER SYSTEMS: An auxiliary power supply which was custom-designed for a monorail project will be the highlight of Turbo Power Systems' presence at InnoTrans 2016.
Unique features of the monorail APS include a liquid cooling system which incorporates modular line replaceable units with quick release no-leak couplings integrated into the main vehicle cooling circuit for ease of maintenance. The three-phase, single phase and DC conversion circuits are optimised to meet the specification while achieving the smallest space and lowest weight; the enclosure has been fabricated using weight reduction techniques from the aerospace sector.
Extensive diagnostic and data logging facilities can be accessed by connecting the APS to a computer and using TPS's Portable Test Equipment diagnostic software.
The APS underwent an extensive programme of validation testing, including environmental, EMC and performance tests undertaken in-house and at specialist facilities. 'These validation and performance tests ensured that the APS would function as required, under the most severe mechanical and electrical environments that could be encountered around the world', according to CEO Carlos Neves.
TPS will also highlight its at-seat power supply units which have been ordered for more than 1 000 vehicles in the UK, including for retrofitting to Class 318 and Class 321 EMUs.