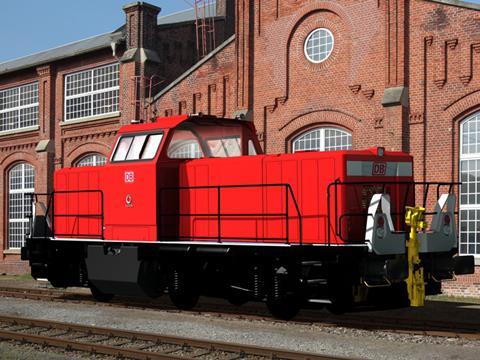 DEUTSCHE BAHN: On display at InnoTrans 2014 will be the first of 36 Pesa Link diesel multiple-units which DB ordered for the Sauerland network in 2013 under a framework agreement signed at the last InnoTrans.
Visitors will also be able to see the first of five diesel-battery hybrid shunting locomotives developed by Alstom and ordered by DAL Deutsche Anlagen-Leasing for use by DB under a project launched last year. The H3 locomotive is estimated to use 50% less fuel than a conventional design, while cutting emissions by 70%.
Rolling stock maintenance subsidiary DB Fahrzeuginstandhaltung will be explaining how it is undertaking the refurbishment of Class 423 electric multiple-units operated on S-Bahn Rhein-Main services around Frankfurt. Taking four to five weeks per unit, work includes gutting the interior and fitting door-closing warning lights, PRM TSI-compliant warning tones and tactile surfaces. Some vehicles are also being fitted with passenger-counting systems.
DB's indoor stand in the CityCube area will present the activities of its subsidiaries in four themed areas, while the human resources department will be showcasing job opportunties and vocational training in the career and education hall.
DB will be highlighting the QIXXIT multimodal journey planner, which integrates data on air, rail, coach and local transport servcies, as well as car-sharing and cycle hire.
DB Station&Service will set out its vision of the 'station of the future', highlighting how Berlin Südkreuz offers sustainable options for connecting travel, and has two vertical wind turbines on the station roof which are to be joined by solar panels.
DB Systemtechnik will be explaining how it performs comfort and performance tests on air-conditioning units or components in temperatures between -20°C and +40°C, identifying faults, recording energy consumption and carrying out preliminary acceptance tests using a wind tunnel. Vistors will be able to inspect a model of the climate chamber which can accommodate objects varying in size from a set of retractable steps to a two-car multiple-unit.