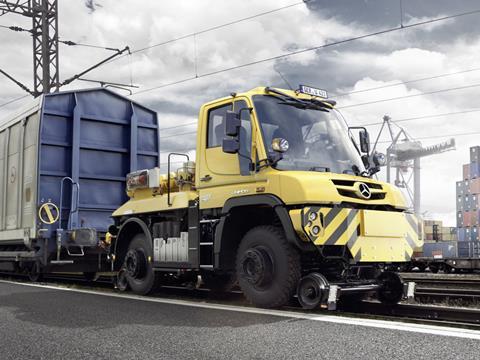 MERCEDES-BENZ: The Unimog U 423 road-rail vehicle which will be on show at InnoTrans 2014 meets Euro VI exhaust emission standards and has a redesigned cab.
The large windows gives an unobstructed view, with the wipers now positioned above the windscreen. The driver's instrument cluster has been redesigned with a large bright display, and the bumpers have integrated LED-lights. Options which can be specified by the customer include a frontal camera, lighting systems, vigilance devices and radios.
As well as carrying staff and equipment to worksites, the 231 hp vehicle can haul trains of up to 1000 tonnes. Eight forward and eight reverse gears enable speeds of up to 50 km/h in either direction on rail, and a road speed of 90 km/h. The Easy Drive technology gives a smooth increase or decrease in speed without using the clutch and an easy change between a hydrostatic and mechanical transmission while driving.
Using appropriate rims and tyres the Unimog can be driven on standard gauge tracks or various broad gauges.