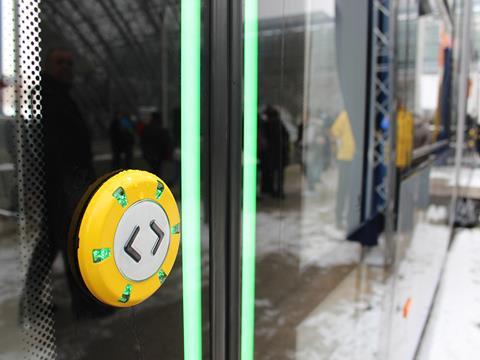 TSL-ESCHA: Internal lights for trams and LRVs will be the focus of the TSL-Escha stand at InnoTrans 2018, where the company will be showing the VL55 lighting assembly.
Intended to be fitted at ceiling level above the doors, it combines the internal lighting function and visual warning of door closure, and highlights exterior steps and ramps, which is especially important for passengers of reduced mobility.
White LEDs illuminate boarding steps with an intensity of at least 75 lux without dark areas. The alarm signals for door closure or ramp deployment can be colour coded according to the customer's wishes, but standard warnings using flashing red colours are on offer, the company says. These warning lights are directed towards the interior of the vehicle. VL55 complies with the EN 13272 standard for electrical lighting in rolling stock applications.