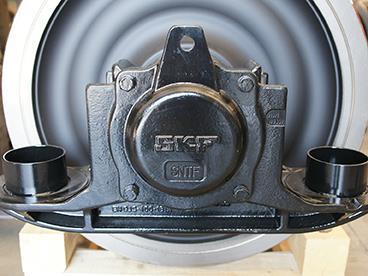 SKF: At InnoTrans 2016, bearing specialist SKF will focus on reliability and how it can help customers to minimise the frequency of maintenance operations. The company is developing a new family of tapered roller bearing units which it claims are the first to offer a period between overhauls that matches wheel replacement intervals, allowing wheelset and bearing overhaul to be undertaken simultaneously.

SKF says that while standard rail bearings typically require overhaul and re-lubrication well before 1 million km, the tapered bearing units are designed to run for 1·7 million km. This has been achieved by focusing on the factors that affect lubricant life within the bearing, especially cleanliness and operating temperature. SKF's X-bite heat treatment technology is used on the inner and outer bearing races.

SKF will also be introducing its Centrifugal Lip Seal that dynamically switches between contacting and non-contacting sealing modes in wheelset bearing units. This novel design balances the trade-off between the sealing function and friction torque, enabling lower temperature operation and enabling extended maintenance intervals.

Also on show will be the Baker AWA-IV traction motor test rig with customisable user interface and specialised wheel flange lubrication systems to reduce track squeal and wear.