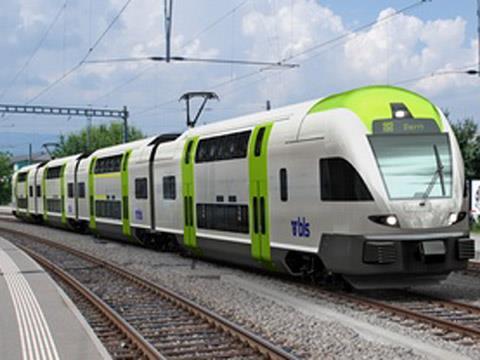 STADLER: Having handed over a first Komfortabler Innovativer Spurtstarker S-Bahn-Zug (or KISS) double-deck EMU to SBB at Inno-Trans 2010, Stadler Rail will be presenting two more this year. Four-car sets destined for use by Netinera-Benex joint venture ODEG on regional services in Brandenburg and by BLS on routes around Bern will be on show.
Joining them will be one of five Flirt EMUs being supplied to Czech open access operator Leo Express, which is due to commence public services between Praha and Ostrava in December. Designed to cater to the inter-city market with a maximum speed of 200 km/h, the 90 m long four-car sets include three classes of seating (RG 10.11 p50).
Completing Stadler's outdoor display is a Tango tram destined for Stuttgart and a dual-mode shunter for SBB.
Stadler Pankow is supplying 20 high-floor DT8.12 LRVs to Stuttgarter Strassenbahnen; each standard gauge, bi-directional unit has capacity for 106 seated and 146 standing passengers.
Delivery of 30 Eem 923 electro-diesel shunting locomotives to SBB Cargo began earlier this year. Rated at 1500 kW, the locos are expected to operate primarily in electric mode, using an auxiliary diesel powerpack for shunting in non-electrified yards and terminals.