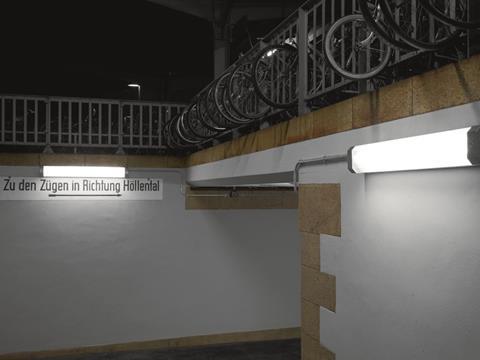 NORKA: Luminaire manufacturer Norka will be showing its latest innovations in lighting technology at InnoTrans, 2016, with applications for stations, platforms, tunnels and subways, as well as trackside lighting.
A combination of robust hardware, LED light sources and a customised control is helping to set new benchmarks for energy efficiency and service life, in order to optimise the total costs of ownership. Among the company's recent projects is an LED lighting unit deployed at München Hbf, which will be on show, along with other products from the company's Eidelstedt, Phalanx and Zug LED ranges.
These offer a high luminous flux and low energy consumption, demonstrating the efficiency of LED lighting while meeting the expectations of staff and passengers for precise light distribution, lack of glare and no direct visibility of the lamps. Customised luminaires can be provided to suit the specific locations, reflecting possible exposure to dirt, weather or vandalism, as well as protection from over-voltage surges.
Intelligent electronic controls allow the luminaires to be dimmed to suit the ambient lighting conditions, using daylight sensors or timer switches as appropriate. Norka's Xara light management system includes all components from the user interface to the configuration and programming software, including the communications modules and sensors. It allows for either centralised light management of a large installation or decentralised solutions with local controls in each room. Data can be transmitted by cable or wirelessly as appropriate.
To ensure the Xara components are as robust as the luminaires, Norka uses sensors that meet the IP 65 protection rating and can be used in temperatures ranging from -25°C to +50°C.