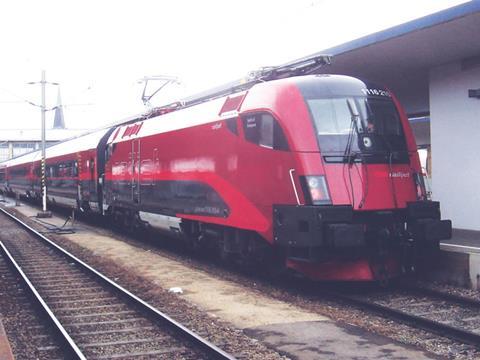 NOMAD DIGITAL: The onboard connectivity specialist Nomad Digital used the InnoTrans exhibition in Berlin to launch Horizon, its redesigned mobile router software intended to substantially enhance the quality of wi-fi and digital services on trains.
Horizon has been developed as a result of what the company terms 'extensive research into both passenger and train operator requirements, including a detailed analysis of the behaviours of modern cellular networks'. This is intended to deliver 'the most optimum wireless broadband experience on a train to fully exploit the capabilities of cellular networks now and in the future'.
Nomad says that the Horizon software has the potential to increase average throughput performance by up to 300%, and it has already achieved up to 900 Mbps data throughput. Extensive bandwidth management capability enables operators to adapt the prioritisation and differentiation of onboard connectivity service. Horizon is compatible with the LTE-A mobile network specification, and comes with a fully integrated Portal and Content Management System, enabling operators to create and distribute rich page content to trains, as well as enriched multimedia content and infotainment.
Horizon's open architecture also accommodates the integration of third-party and industry-standard applications, Nomad says. This should improve the speed of deployment and lower the cost of delivering both passenger-facing and operational services, and enable operators to implement more sophisticated telemetry to support condition-based and data-driven maintenance techniques. The software is designed to be compatible with all Nomad's existing onboard control units and will be available for new shipments from January 2017.
Speaking at InnoTrans on September 20, Nomad Digital Chief Executive Andrew Taylor told Railway Gazette International that he was 'absolutely confident' that Horizon would deliver connectivity speeds 'three times faster' than anything currently available in the market. 'Sometimes you have to unscramble some spaghetti', he said, pointing out that Horizon uses a clean Linux source code rather than an update to previous iterations. 'This might be the most important product development milestone since the company was founded.'
Nomad expects to announce a complementary suite of real-time monitoring and diagnostic tools to run alongside Horizon later in the InnoTrans fair.