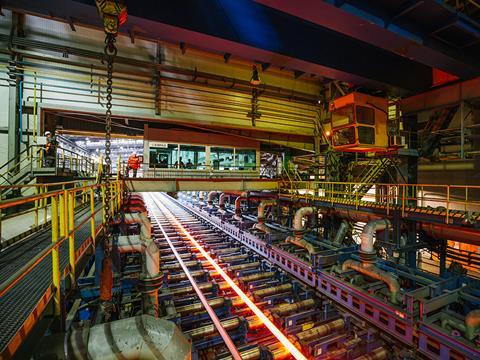 EVRAZ: High-endurance rails aimed at railways with heavy freight travelling over long distances will be one of the key features of the Evraz presence at InnoTrans 2018.
First offered to market last year, the high-endurance rail range now being introduced by the Russian steel producer is claimed to have a wear resistance rate up to 25% greater than standard designs. According to initial performance trials, improved performance has also been found in key parameters such as fatigue strength, endurance limits and fatigue crack propagation.
The company says that this level of performance has been achieved partly by optimising the mix of strength versus plasticity. Evraz has changed the chemical composition of the rail steel, found an optimal heat-treating mode and amended the temperature and speed of the rolling process.
Rails are designed for heavy haul applications and other harsh operating requirements, including tight curves with a radius of less than 650 m. According to Russian Railways, no fewer than 22 000 track-km could be suited to the use of these premium rails, and the national railway will work with Evraz to complete the certification process before they are offered to export customers.