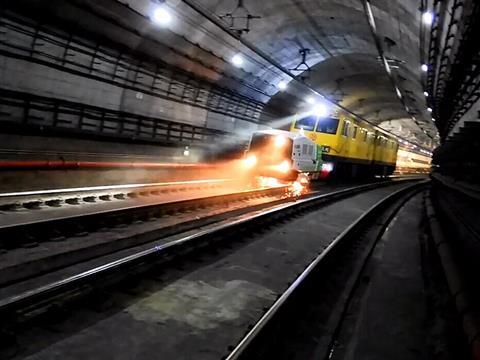 VOSSLOH: With Vossloh's portfolio more weighted towards infrastructure following the sale of its Valencia-based rolling stock business to Stadler Rail, the company will be showcasing a range of technologies at InnoTrans aimed at addressing multiple macro-level challenges including urbanisation, capacity constraints and environmental impact.

Various tools, services and concepts will be on show on its stands that can help to increase the availability rates of infrastructure assets. The company says it has identified four key factors that can help infrastructure managers to keep their tracks open for traffic longer:

• asset durability where components are as far as possible 'maintenance-free';
• quick and easy installation of maintenance tools and/or new track components;
• technologies to ensure ease of asset maintenance;
• pro-active and holistic asset management based on live condition data.

Using cost simulations based on reference projects and research studies in combination with a mapping of typical railway infrastructure, Vossloh will also seek to show how specific products, materials, services or technologies can significantly reduce the costs of track maintenance throughout the life-cycle.

Among its track components, Vossloh will be displaying highly-elastic rail fastening systems with vibration-damping rail pads or intermediate plates made from cellentic. It will also be showcasing a bespoke turnout design aimed at reducing the noise emitted when trains pass over it.

Vossloh will again be displaying its High Speed Grinding technology for preventative rail maintenance. This can help to mitigate corrugation and fatigue damage on the surface of the rail, which is a major cause of rail-borne noise. Several research projects have produced data to support the use of HSG at regular intervals; depending on the condition of the rail, noise reductions of up to 10 dB(A) could be attained.

Noise reduction is largely achieved through use of a diagonal grinding method which, unlike conventional rotating grinding tools, generates neither martensite nor transverse grooves. HSG has now been endorsed in Germany as an effective noise reduction process, Vossloh says.

It will also be introducing a High-Performance Milling technology, where removal of up to 3 mm of material on the running surface and 10 mm at the rail edge could be achieved in a single pass. A novel measurement system ensures precision in restoration of the rail section, enabling a reduction in rolling noise.

Rolling stock

Despite the disposal of its Valencia-based rolling stock business, Vossloh will also be highlighting a number of rolling stock projects at InnoTrans. Among the most high-profile is Vossloh Kiepe's development of a next-generation suspension monorail vehicle for Wuppertal's Schwebebahn. In Berlin, Vossloh Kiepe will be displaying the ultra-lightweight bogies for the Generation 15 cars; these feature novel three-phase IGBT inverters to provide traction as well as powering onboard auxiliaries and HVAC.

Also on display will be Vossloh Kiepe's latest CO2 air-conditioning unit for main line trains. Equipped with a heat pump and heat recovery function, it is designed to be highly energy-efficient.

Lastly, Kiel-based Vossloh Locomotives will be presenting a multimedia experience enabling visitors to tour the factory it is developing in the city. Replacing its existing Friedrichsort site, the factory at Kiel Business Campus is expected to open by the end of the year.