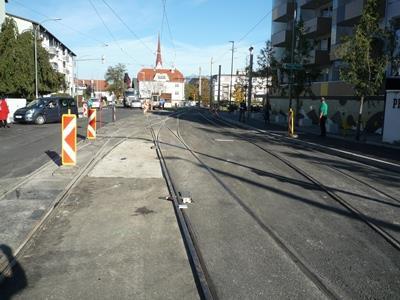 AUSTRIA: Public celebrations and a street party were held in Innsbruck on October 26 to mark the opening of a short extension of tram route 3 in the eastern suburb of Amras. The extension was officially inaugurated at 11.00 by the city's Mayor Christine Oppitz-Plörer, followed by a short concert by the local Musikkapelle Amras.
City transport operator Innsbrucker Verkehrsbetriebe began work on the 350 m extension on May 2, when the turning loop at the former terminal adjacent to the city's eastern cemetery was disconnected. The line has now been extended eastwards along Philippine-Welser-Strasse to a stub-end terminus closer to new housing developments, with two fully-accessible platforms. The site of the old terminal loop is being landscaped with grass and extra parking spaces.
Construction is also well advanced on a second extension of Line 3, which is expected to open in December. This 2·3 km extension will run westwards from a junction at Anichstrasse in the city centre to cross the River Inn on the University Bridge and then continue along Fürstenweg to a new terminus adjacent to the ÖBB station at Hötting.
Opening of the Höttinger Au extension will see changes to the routing of Line 3 through the city centre. Instead of making a single-direction loop around the central area, eastbound trams will also run via Marie-Theresien-Strasse and Triumphpforte, in order to serve the Hauptbahnhof in both directions.
First test tram arrives at Philippine-Welser-Strasse on October 23.