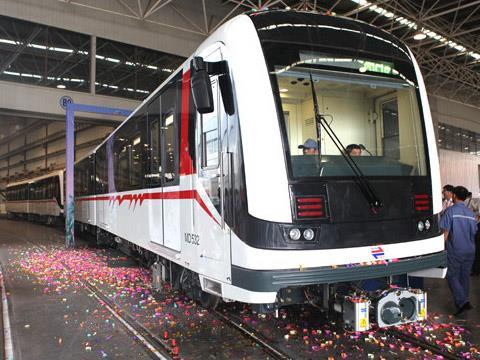 TURKEY: The Mayor of Izmir was in China on August 10 for the unveiling of a light metro trainset which manufacturer CSR Zhuzhou said is 'the crown of Chinese urban rail products', and proof that the company's scientific and technological innovation meets world standards.
Imzir Metro placed a 350m yuan order in October 2009 for eight four-car trainsets for use on an 8 km extension of its 11·6 km line. Unveiling the first vehicles, CSR Zhuzhou General Manager Xu Zongxiang said this would be a 'stepping stone' to the European market, which is 'a big piece of cake', but 'hard to win'.
Technically similar to Izmir's existing Adtranz fleet, the 80 km/h air-conditioned trains have a 2650 mm wide welded aluminium bodyshell, can negotiate curves down to 30 m radius, and are fitted with magnetic track brakes. Delivery is scheduled for October.
CSR said the 'exotic' styling of the trains combines classical and contemporary elements to reflect Izmir's location close to Europe on the shore of Asia. The livery is inspired by Islamic designs and displays 'nobleness and elegance', while the interior mixes warm tones and themes such as the 'poetic' Aegean.