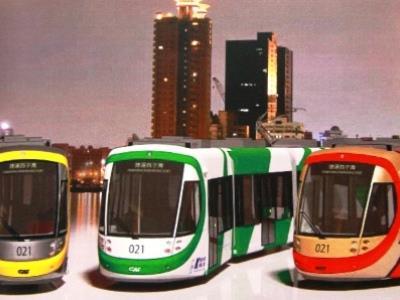 TAIWAN: A groundbreaking ceremony has been held for the Kaohsiung light rail line. Tracks were removed from Taiwan Railway Administration's Qianzhen depot in preparation for utility relocation and track bed reconstruction.
The 22·1 km circular line will incorporate portions of Taiwan Railway Administration's existing Lin Gang East and West freight railways, and will be built in two stages. The first 8·7 km will run through Asia New Bay Area and Pier 2 Arts Centre to Sizihwan District. It will have 14 stops and a 3 ha depot at the junction of Kaisyuan Road and Sianming Road. Testing on the first phase is due to begin by the end of 2014, according to the local government.
The second phase involves the reconstruction in tunnel of TRA's existing cross-city main line, and is due to open by December 2017. It will add 18 stops.
The total cost of the line is estimated at NT$16·5bn. The central government will provide a subsidy of NT$6·4bn, and the remainder will come from the local government. A consortium of CAF and Evergreen Construction was chosen in January to build the first stage. The catenary-free line will use a fleet of CAF Urbos low-floor cars equipped with an onboard energy storage system that will be recharged at intervals along the line.