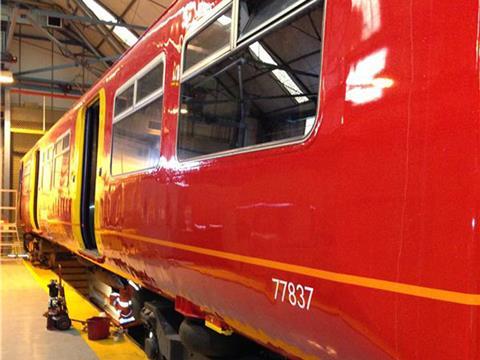 UK: Knorr-Bremse Rail Systems (UK) Ltd acquired the business and assets of rolling stock repair and refurbishment company Railcare Ltd from its joint administrators on August 26.
Following the acquisition, Knorr-Bremse has formed Knorr-Bremse RailServices (UK) Ltd as a new rolling stock maintenance and repair company operating with its own identity.
The administrators said the deal would ensure the continuation of work at the Railcare plants in Wolverton and Springburn, and 'preserve all 202 skilled jobs across both sites'. Railcare had been placed in administration on July 31.
'We see Knorr-Bremse RailServices operations developing and expanding in the future in what we view as a dynamic area of rail operations with much potential', said Paul Goodhand of Knorr-Bremse Rail Systems (UK) Ltd. 'Railcare currently has many skilled and experienced individuals working at both its sites, in vehicle overhaul and repair but also in specialist incident repair and logistics. We believe that with the support of Knorr-Bremse, both in terms of solid financial investment and in process and management experience and support, we will, together with the existing team, be able to create a strong, new company.'
'The sale of Railcare's business and assets to Knorr-Bremse will secure a future for the business and jobs' said Kim Rayment, business restructuring partner at BDO and one of the joint administrators. 'Under the conditions of the sale Knorr-Bremse has agreed to pay retained employees their July salaries, which Railcare was unable to provide before it entered administration.'
'We are delighted with this very positive outcome for the business, employees and more broadly for the communities of Wolverton and Springburn', he added. 'This outcome has only been possible because of the support of customers and the dedication of staff, and we are grateful for this co-operation throughout the administration.'