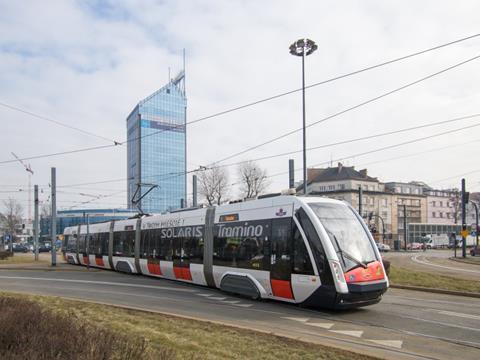 POLAND: MPK Kraków started test running of a Solaris Tramino 100% low-floor tram on February 23. The vehicle will operate for three months on Route 1 of the standard gauge network, which links Nowa Huta and the city centre.
Powered by four 105 kW asynchronous traction motors, the tram is fitted with supercapacitors to store regenerated braking energy. According to Solaris, this can result in an energy saving of 20% to 30% compared to conventional trams. The supercapacitors can also be configured to allow partly automated operation.
'We follow all the new solutions available on the tram market with great attention. Hence our interest in the Solaris tram, equipped with the innovative energy storage system', said MPK Kraków CEO Rafał Świerczyński
The five-section vehicle is 32 m long and 2 350 mm wide with capacity for 204 passengers including 61 seated. The passenger compartment features air-conditioning and LED lighting.
'The experience obtained during these test runs will provide our Research & Development Department with extremely valuable material. That knowledge will be crucial, especially since Kraków intends to invest in new rolling stock and develop its tram system in the near future', said Zbigniew Palenica, Solaris Board Member for Rolling Stock.