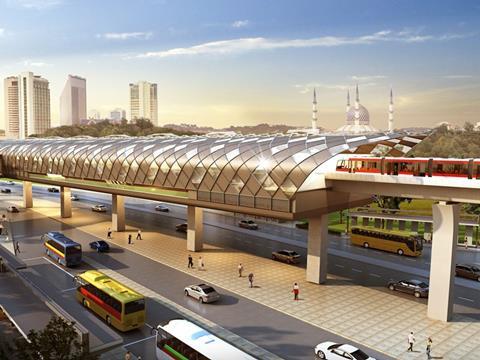 MALAYSIA: Systra is to undertake preliminary design for Line LRT3 in Kuala Lumpur, the company announced on May 24. The scope covers design of viaducts, tunnels, the depot and railway systems as well as rolling stock.
Connecting the Bandar Utama and Johan Setia districts in western Kuala Lumpur, the 37·7 km line would run mostly on an elevated alignment, with 2 km underground. There would be 26 stations, including 10 with park-and-ride sites providing a total of 6 000 spaces.
A fleet of six-car trainsets with full-width gangways and a maximum speed of 80 km/h is envisaged. CBTC signalling would enable peak headways of 2 min, giving Line LRT3 capacity for 36 720 passengers/h per direction. The end-to-end journey time would be 58 min.
Transport agency Prasarana hopes that the new line will contribute to increasing the modal share of public transport from 20% to 40%. Ridership is forecast at 74 000 passengers/day. MRCB George Kent is acting as project delivery partner, and opening is scheduled for 2020.