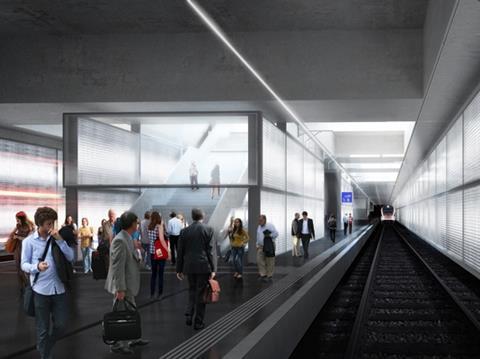 EUROPE: During a 'summit' between the two railways held in Paris on March 9, SBB CEO Andreas Meyer and SNCF President Guillaume Pepy signed a co-operation agreement for the operation from December 2019 of the Léman Express network of cross-border regional and suburban services centred on Genève.
Under the agreement, a new company known as Lémanis SA is to be created within the next few weeks. This will be charged with promoting the new network and co-ordinating operations on either side of the Franco-Swiss border.
To prepare for the launch of the cross-border network, the two railways have already established commissioning body OMEX, headed by Daniel Leuba of SBB and Armelle Laugier of SNCF. This is responsible for technical and operational issues regarding infrastructure as well as customer service facilities.
Centred around the 16 km CEVA line connecting Genève Cornavin with Eaux-Vives and Annemasse, being built at a cost of €1∙8bn, the 230 route-km cross-border RER network will serve a total of 45 stations. Léman Express services will connect Evian, Saint-Gervais, Annecy and Bellegarde in France with Genève, Coppet and Lausanne in Switzerland, and are expected to carry 50 000 passengers a day.