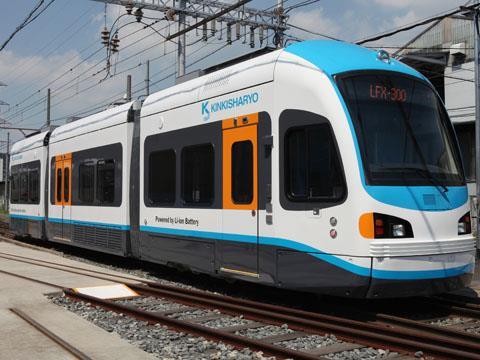 USA: The prototype LFX-300 100% low-floor hybrid streetcar developed by Kinki Sharyo for the US market was unveiled in Charlotte on January 20. Rainer Hombach, Vice President & General Manager of Kinkisharyo International, announced that the vehicle would be marketed as 'ameriTRAM'.
The prototype has completed a series of tests since it arrived in Charlotte on December 9. The three-section vehicle is 20 m long and 2 650 mm wide and is powered by four 120 kW motors. The modular design allows it to be supplied with up to seven sections.
Using technology branded as 'e-Brid', the vehicle can operate by drawing power from overhead catenary or on-board lithium-ion batteries which store regenerated braking energy. According to Kinkisharyo International, the Ameritram will be able to run for up to 8 km on battery power.
'We thank the city of Charlotte and the Charlotte Area Transit System for allowing us to test our prototype here', said Hombach, describing the city as an 'outstanding venue for us to introduce Ameritram to North America.' He said the streetcar was designed to comply with North American regulations, including the Americans with Disabilities Act, Buy America rules and NFPA-130 fire regulations.
Following the launch, the prototype will go on public display in Charlotte, after which it will move to Dallas.
The LFX-300 was described in detail in the November 2010 issue of Railway Gazette International.
Charlotte's Metropolitan Transit Commission has approved a modified plan for the 18 km Lynx Blue Line northern extension to the University of North Carolina, which would reduce the cost from $920m to $800m.