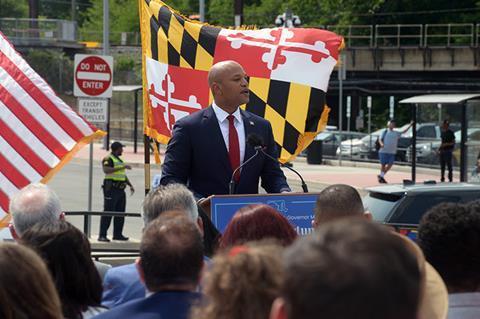 USA: Maryland Governor Wes Moore has announced the revival of the Red Line project to develop an east–west light rail route in the Baltimore metropolitan area.
'Nearly a decade ago, the previous administration cut the Red Line project at a time when Baltimore was reeling from one of the most trying eras in recent history – but now is the time for us to get this right,' Moore said on June 15. 'We're going to work together and seize this moment in our nation's history when the stars are aligned to invest in public transit. Our communities are expanding, our jobs are growing, and we need to make sure that everyone in the region can get from where they live to where the opportunity lies.'
The 22·6 km route would connect Woodlawn in Baltimore County with the Johns Hopkins Bayview Medical Centre campus on the east side of the city. It would connect with the existing north-south light rail line, the Baltimore Metro and MARC commuter rail services.
Maryland Department of Transportation Secretary Paul J Wiedefeld said 'before it was cancelled in 2015, the initial Red Line plan was shaped by more than 10 years of study, engineering, environmental analysis, and substantial community participation'.
A feasibility study for the line was completed in 2022 and a public engagement period is planned to start next month.
Maryland Transit Administration is to request entry into the federal Capital Investment Grants programme in 2024 hoping to receive 'significant federal financial assistance'.