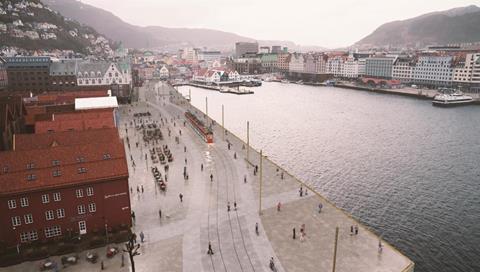 NORWAY: Bergen city council has approved plans for the construction of a 12·7 km extension of the Bybanen light rail network from Kaigaten in the city centre north to Vågsbotn in Åsane.
Following the council decision on May 31, project promoter Bybanen Utbygging signed a NKr1·1bn contract for the CORAV consortium of COWI Norge, Ramboll and Asplan Viak to undertake design work for the line.
The planned route to Åsane forms the fifth phase of the Bybanen construction programme.
The cost of the project is put at NKr21bn, including 14 stops and 5·7 km of tunnel, as well as a 13 km cycle route and a 3 km extension of the Fløyfjells road tunnel.
Construction could start in 2024 for completion in 2032 at the earliest.
Ridership is predicted at 60 000 passengers/day in 2040, with a journey time from the city centre to Vågsbotn of about 25 min.