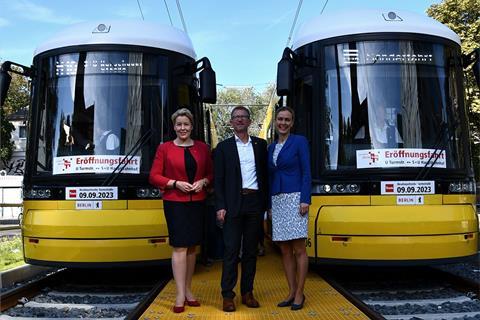 GERMANY: A 2·2 km extension of Berlin tram route M10 from Hauptbahnhof to Turmstraße U-Bahn station on Line U9 opened for revenue service on September 9, restoring tram services to the Moabit district after an absence of around 60 years.
The extension required 1·5 km of new line beyond the turning loop at Lüneburger Straße, and has five stops at Lesser-Ury-Weg, Alt-Moabit/Rathenower Straße, Kriminalgericht Moabit, Lübecker Straße and Turmstraße.
Operator BVG anticipates that the extension will attract more than 10 000 passengers/day, with services operating at intervals of 5 min to 10 min.
Route M10 now provides an east-west connection across the city, starting from Warschauer Straße and running via Frankfurter Tor, Eberswalder Straße, Nordbahnhof and Hauptbahnhof.
The line has taken around two years to build, following a groundbreaking ceremony in August 2021. The €33m project was funded by the Berlin Sustainable Development Programme, with co-financing from the European Regional Development Fund and the Land of Berlin.
'We have reached another milestone in the expansion of sustainable mobility in Berlin', commented the city's Transport Senator Manja Schreiner. 'In just over two years of construction, we have brought the tramway a little further west.'