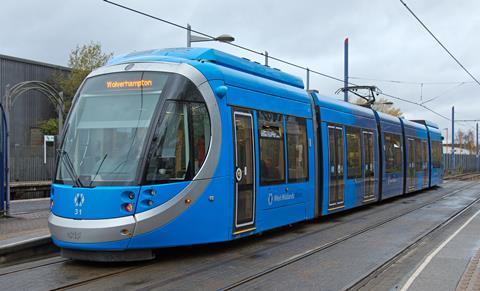 UK: Tram services between Birmingham and Wolverhampton operated by West Midlands Metro were suspended on March 19 after further cracking was identified in the fleet of CAF Urbos 3 vehicles.
The operator confirmed the following day that services would remain cancelled 'until further notice', with local media suggesting that the 'bodyside' cracks which had been discovered were not related to the cracks around the bogie pivot mounts that has caused services to be withdrawn for several weeks in June 2021.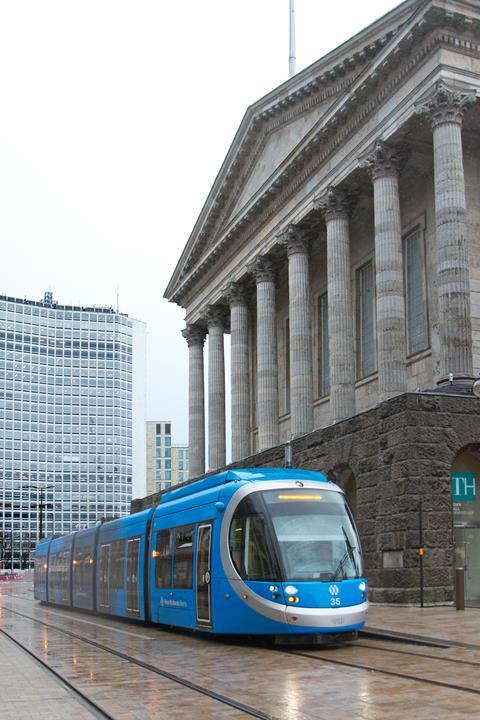 All 21 trams had been taken out of service for four days in June to allow CAF to examine the earlier cracks and carry out temporary repairs. More cracks were later discovered in the same areas and the trams were withdrawn on November 11 for more extensive repairs. It was not until December 15 that a skeleton service could be reinstated, and the full timetable was only restored on February 12.
In 2021 CAF confirmed that the sets were seeing cracks in the 'suspended' centre section of the vehicles. The manufacturer had accepted responsibility and would be instigating a repair programme. Metro Report understands that weld failures were found at a joint where two panels meet. However, the rectification work has not yet started, following discussions over whether it would be undertaken in the West Midlands or at CAF's spares facility near Stockport.
In a statement issued on March 20, West Midlands Metro explained that 'during inspections, new bodywork cracks have been identified on some of our older trams which require additional checks to be carried out by the manufacturer. As a precautionary measure, tram services have been suspended until further notice. We are working alongside the manufacturer to restore services as quickly as possible.'
Insisting that 'this is a temporary and precautionary measure we have taken to ensure the service can continue to run safely and efficiently in the future', the operator added that 'the manufacturer has already started inspections on the fleet of trams and the WMM engineering team are working closely with them so that services can resume as quickly as possible.'