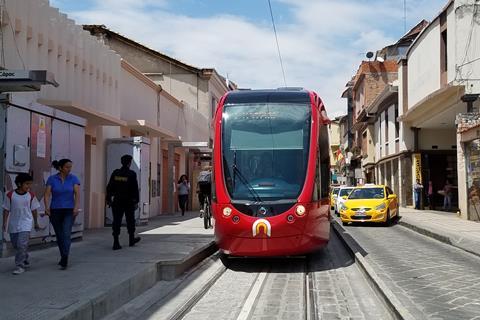 ECUADOR: The Cuenca tramway opened for limited passenger services on May 25, with regular services scheduled to start in June. Travel will be free of charge for the first two months.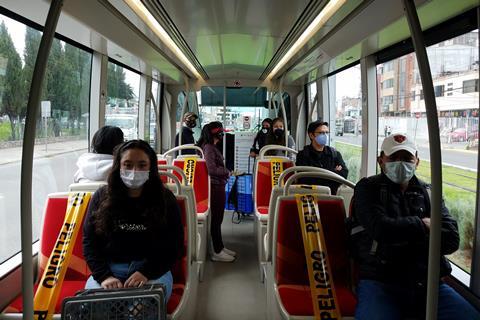 Because of Covid-19 measures, the capacity of each of the eight trams in service is being limited to 30% of the notional maximum, with staff supervising social distancing.
The 10∙7 km line starts at Río Tarqui in the southwest, and runs though the city centre to Parque Industrial with a total of 27 stops. Vibration limiting floating slab track and a ground-level power supply for catenary-free operation are used the UNESCO World Heritage listed historic city centre.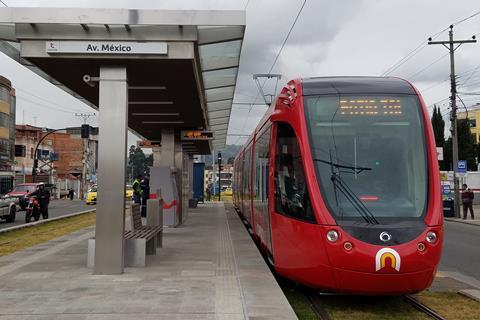 The journey time is 35 min. The full service will have 6 min headways in the peaks and 10 min headways during the rest of the day. Future ridership is estimated at 120 000 passengers/day
Planning for a modern tramway in the mountainous city began in 2011. The GME Cita consortium led by Alstom and including CIM, TSO and INEO began construction in December 2013, but work stopped in August 2016 after a series of funding and contractual problems.
In December 2017 construction was restarted by the newly-formed ACTN consortium of Alstom, Compagnie International de Maintenance and the NGE Group joint venture of TSO and NGE Contracting.
Metrotenerife provided pre-operation technical assistance, and will provide support for the first three years of commercial operation.
Alstom has supplied 14 Citadis 302 five-section, 32·4 m long, 2 400 mm wide trams.