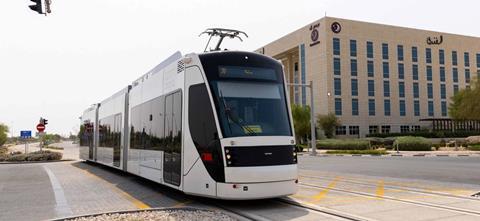 QATAR: The third and final section of Doha's isolated Education City tram network, the Green Line, has opened for revenue service.
The Green Line runs from an interchange with the Blue and Yellow lines at Stadium North to the national convention centre and Sidra, with a branch serving the Community Housing zone. The first public services ran on July 29.
The 11·5 km long Education City network now comprises three routes serving a total of 24 stops. It is not connected to the city's Lusail and Msheireb light rail networks.
The Blue Line opened in December 2019, and the Yellow Line was launched in November 2021.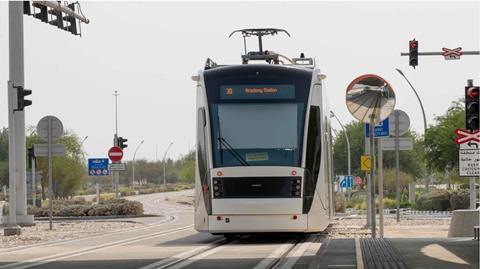 The catenary-free tram network was delivered by the Capital Projects Directorate of the Qatari Foundation, which is developing the campus housing, two universities, museums and the national library.
The network is operated by a fleet of 19 Avenio low-floor LRVs from Siemens Mobility, which have batteries for onboard energy storage and small pantographs for recharging from an overhead conductor rail at the stops. Each air-conditioned tram has 64 seats, including dedicated spaces for passengers with disabilities.
'The expansion of the Education City Tram supports the ministry's strategy towards the transformation of a transportation system that runs on clean and environmentally friendly electric energy', said Mohammed bin Khalid Al Thani, Director of the Technical Office at the Ministry of Communications.